New management for even more innovation in the dynamic market of light: Philips announced today the appointment of Eric Rondolat as CEO of the lighting Division and a member of the Executive Committee.
From April 1 it will replace Frans van Houten thus, who in the meantime has led Philips Lighting.
From the official press release for this purpose: Eric Rondolat (* 1966, Italian French nationality) by Schneider Electric switches to Philips.
"I am delighted that we could win Eric Rondolat as head of our lighting Division", so Frans van Houten, CEO of Royal Philips Electronics. "Eric Rondolat can boast an impressive international career in the technology industry, both in established and fast-growing emerging markets. Most recently, he was responsible for Asia-Pacific, based in China. He is imbued with real entrepreneurial spirit and has a clear strategic vision. As a result, he will be able and energy-efficient LED based lighting solutions mainly to promote the transformation of the industry. Eric Rondolat characterized by a pronounced result orientation and is an excellent addition to my team."
"I am happy to take on this exciting task at Philips, and I forward to the cooperation with the teams to make Philips Lighting through innovations in this dynamic market," commented Rondolat."Philips is a company with a rich heritage and well positioned to take advantage of more growth opportunities."
Philips Lighting as the world's largest provider of lighting solutions recorded a turnover of 7.6 billion euros in 2011. The Division accelerated the transformation of its product portfolio and to LED applications and solutions, as evidenced by solid sales growth in the mid double-digit range over the entire portfolio of LED throughout in the past two years. With the appointment of Eric Rondolat as the new CEO of the lighting Division, as well as the appointment of Paul Verhagen to the CFO with effect from January 1, the new leadership team for the lighting sector is complete.
Gallery
Philips positions itself to light Internet of Things space
Source: defence.pk
Royal Philips plans to split lighting and healthcare …
Source: marketbusinessnews.com
Philips CEO's plans to exit lighting business bolstered by …
Source: www.livemint.com
How Philips is transforming into a health tech trailblazer …
Source: economictimes.indiatimes.com
Lights out: Philips to launch IPO for lighting division …
Source: www.nst.com.my
Osram and Philips sign LED luminaire patent license …
Source: www.ledsmagazine.com
Lightolier
Source: en.wikipedia.org
Exclusive Interview with Philips Lumileds—manufacturing …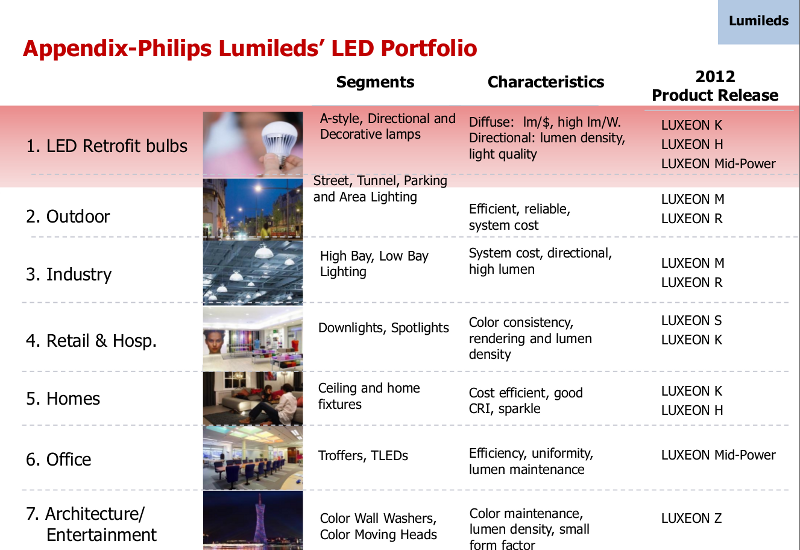 Source: www.ledinside.com
LEDs Magazine
Source: www.ledsmagazine.com
Tunable LED lighting and controls are stars of show …
Source: www.ledsmagazine.com
Eric Rondolat, chief executive officer of Royal Philips NV …
Source: gettyimages.com
Eric Rondolat calls on PM Modi
Source: www.prokerala.com
Philips Lighting nombra nuevo presidente para España y …
Source: material-electrico.cdecomunicacion.es
Philips Lighting straalt op beursvloer in Amsterdam …
Source: www.omroepbrabant.nl
MAKING THE CUT: Interview with CEO of Philips Lighting …
Source: www.youtube.com
Philips Lighting NV Chief Executive Officer Eric Rondolat …
Source: www.gettyimages.co.uk
Eric Rondolat Photos et images de collection
Source: www.gettyimages.fr
James Patterson
Source: gettyimages.com
Philips Lighting NV Chief Executive Officer Eric Rondolat …
Source: www.gettyimages.co.uk
The dim light of LED profits: Philips CEO issues financial …
Source: www.zdnet.com